Modello 1915 Pistol is a Codex Entry featured in Battlefield 1. It is unlocked upon obtaining 10 kills with the Modello 1915.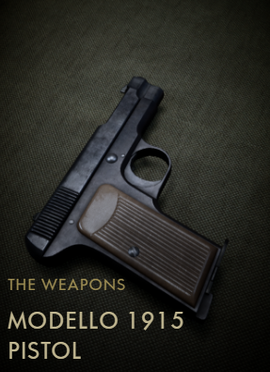 Like most other nations, Italy had a shortage of military firearms when it entered WW1, and pistols were no exception. In June 1915, one month after Italy joining the war, Tullio Maragoni submitted his patent for a pistol chambered for the 9mm Glisenti cartridge, which was already being used for other Italian small arms like the M1910 and the Villar Perosa.
Marangoni's design was immediately adopted by the Italian Army as the M1915, and was to be the first in a long line of famous Italian pistols. About 5000 of the 9mm version were produced in 1915, while approximately 70,000 of a smaller version chambered for the weaker 7.65 mm (.32 ACP) cartridge were produced between 1915 and 1918.
The M1915 had been designed with simplicity in mind, utilizing a blowback action which was common for pistols with smaller calibers, a fixed barrel, and an enclosed hammer. It had an 8-round detachable magazine in the grip, and the slide remained open after the last round was fired. The M1915 was still in service by WW2, and by 1943 the last of the pistols were offered for sale to officers for a low price.
Community content is available under
CC-BY-SA
unless otherwise noted.