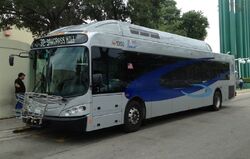 The North American Bus Industries 40-LFW is a 40-foot low floor transit bus with steps up to a high floor section before the rear wheels. NABI introduced the redesigned 40-LFW in 2008, with the Regional Transportation Commission of Southern Nevada (RTC) as the launch customer. It is available in two- or one-door configurations and choice of wide or narrow doors. The 40-LFW uses a carbon steel structure that is phosphate coated to protect from corrosion.
Battlefield Hardline
[
]
Numerous NABI 40-LFWs appear throughout Battlefield Hardline on maps such as Downtown and Growhouse. While they are never available to drive by the player, they may still be entered through doorways. As such, they provide a three hundred and sixty degree view of the surrounding area, providing a great source of cover as a result.