For the similar scout helicopter, see AH-6 Little Bird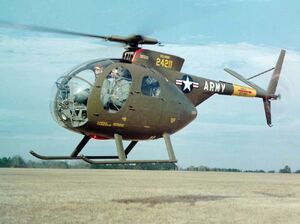 The Hughes OH-6 Cayuse (nicknamed "LOACH", after the requirement acronym LOH - Light Observation Helicopter) is a single-engine light helicopter with a four-bladed main rotor used for personnel transport, escort and attack missions, and observation. It was developed into the AH-6 Little Bird.
Battlefield Vietnam
Edit

The OH-6 Loach is issued to the USMC as a scout helicopter in Battlefield Vietnam. It's similar to the AH-1G Huey Cobra in function and performance. It has space for two players: one pilot who drives the vehicle and is armed with two M134 Dillon Miniguns and can spot targets for artillery similar to Binoculars
The OH-6 is fast and easily maneuverable, and has light armament, as it works well against infantry, making it ideal for hit-and-run mission. Compared to the other US attack helicopter, the AH-1 Huey Cobra, it lacks significantly in firepower (specifically in the anti-tank area), and therefore cannot engage armored units at all, but its machine guns can make it more suitable for aerial combat, as it's easy to miss an enemy helicopter with rockets.
When compared to its Vietnamese counterpart, the OH-6 Loach has superior maneuverability and speed, the ability to have a second engineer weapon of choice (an engineer can repair in-flight) and is a smaller target. However the Ka-25 has superior armament against vehicles and infantry.
Appearances
Edit
Community content is available under
CC-BY-SA
unless otherwise noted.