The Walther PPK (Polizeipistole Kriminalmodell) is a blowback-operated semi-automatic pistol that was developed by the German arms manufacturer Carl Walther GmbH Sportwaffen and released in 1930. A smaller variant of the Walther PP, it had a shorter grip, barrel and frame, and reduced magazine capacity. A new, two-piece wrap-around grip panel construction was used to conceal the exposed back strap. The smaller size made it more concealable than the original PP and hence better suited to plainclothes or undercover work. The pistol is famous for the death of several famous historical figures such as Adolf Hitler or Park Chung-hee. Most notably, it is used by the fictional character James Bond in many novels and films.[1]
Battlefield V
[
]
"Designed in 1929, the PPK is the short version of the PP. While the newer P38 was the standard sidearm of German military during World War II the PPK was adopted in small numbers throughout the war."
— In-game Description
The PPK is a featured in Battlefield V. It was introduced into game as part of the 2020 Summer Update, and is obtained by logging in before July 2nd, 2020.
In terms of statistics, the weapon is essentially a less capable version of the Ruby, with the same damage profile, rate of fire, muzzle velocity and reload speed, but with a lower magazine and reserve ammunition capacity, as well as slightly higher recoil. While its high rate of fire helps somewhat to offset its low base damage, the small magazine size can be a hinderance when engaging multiple enemies.
A variant of the weapon, the PPK Suppressed is also available. As the name suggests, this version is equipped with a Suppressor, which eliminates the directional damage indicator for enemies when they are hit and does not alert enemies in Combined Arms. Except for a slight reduction in recoil, the weapon is otherwise statistically identical to the unsuppressed version.
Gallery
[
]
PPK
[
]
PPK Suppressed
[
]
Trivia
[
]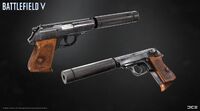 References
[
]