Line 20:
Line 20:
 

===Gallery===

 

===Gallery===

 

<gallery>

 

<gallery>

⚫
 
 

File:BF1942 AFRIKA KORPS PANZER IV.PNG

 

File:BF1942 AFRIKA KORPS PANZER IV.PNG

 
+

Panzer IV.Front side BF1942.png

 
+

Panzer IV.Back side BF1942.png

 
+

Panzer IV.Right side BF1942.png

 
+

Panzer IV.Left side BF1942.png

 
+

Panzer IV.HUD Driver BF1942.png

 
⚫
 

</gallery>

 

</gallery>

 
 
---
Revision as of 06:49, 7 June 2018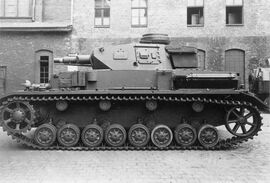 The Panzer IV is a German medium tank used in World War II. The Panzer IV was the only German tank to see combat over the whole of World War II, from Norway to Poland to the Battle of the Bulge and the Fall of Berlin.
During the later stages of the war, it was supplemented by the Panther tank, which was to replace it. Regardless, the venerable Panzer IV remained in service to the end of the war with Germany, and beyond in other countries. The Panzer IV depicted in-game is an Ausf. F1 variant.
Battlefield 1942
The Panzer IV is used by the Wehrmacht and the Royal Italian Army in the Road to Rome expansion pack. It is the direct equivalent (in stats) to the American and British Sherman and Soviet T-34-85.
Gallery
Battlefield 5
The Panzer IV appears in the Battlefield 5 Official Reveal Trailer, as well as in promotional renders and concept art.
Gallery
Community content is available under
CC-BY-SA
unless otherwise noted.