This article is about the Patrol Boat in Battlefield Bad Company and Battlefield Bad Company 2. For other Patrol Boats, see: Patrol Boat

The Patrol Boat Light is a vehicle in Battlefield: Bad Company and Battlefield: Bad Company 2.
Battlefield: Bad Company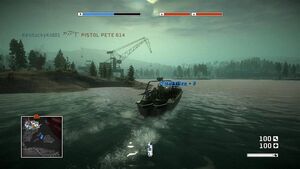 In singleplayer, it is available to the player during
Acta Non Verba
when assaulting the Russian fuel depots and during
Crash and Grab
. It is also extensively used by the
Serdaristani
armed forces during
Air Force One
and is partially used by the Legionnaire Mercenaries during the final part of
Ghost Town
.
In multiplayer, the Patrol Boat Light (PBL) is a maneuverable watercraft armed with two XM307 25mm automatic grenade launchers located in the front and back of the boat. The boat can fit up to four soldiers which means a whole squad can be transported and inserted into enemy territory.
Appearances
Battlefield: Bad Company 2
In singleplayer, the Patrol Boat is used by the Bolivian Militia during Heart of Darkness level.
In multiplayer, the Patrol boat is a high speed watercraft armed with two XM307 grenade launchers, one in the bow that can fire forwards and one in the back limited to firing backwards. Another player can participate as a passenger with his/her infantry weapons available for use. It is not very effective as snipers have clear head shots on drivers and gunners of the Patrol Boat, but one can get lucky and use the grenade launchers as mortars to bombard enemy positions and get a few kills.
Appearances
Community content is available under
CC-BY-SA
unless otherwise noted.