No Man's Sky Update - The Loop
Play Sound
For the similarly named faction, see PLA
"You come to our country to murder us, yet we are the terrorists?"
— Faruk Al-Bashir, just seconds before Miller's execution
The People's Liberation and Resistance (Persian: آزادی‌بخش و مقاومت خلق), commonly abbreviated to PLR, is a fictional Iranian paramilitary insurgent group based largely in the Middle East, although with contacts in the Western world. It is led by Faruk Al-Bashir.
Battlefield 3
[
]
War of 2014
[
]
In Battlefield 3, the People's Liberation and Resistance fight against the United States Marines and Russian GRU. They work hand-in-hand with the Armed Forces of the Islamic Republic of Iran following a coup after a catastrophic earthquake occurred in the region, in which Faruk Al-Bashir, leader of the PLR, takes control of Iran. Thus, one of their more common weapons is the Iranian-made KH2002, while those outside of Iran use a less-standardized menagerie of weapons.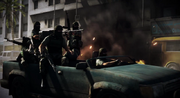 The PLR successfully detonated a portable nuclear weapon in Paris, France, which implicates Russia as the perpetrator, thus sending the two superpowers into a state of war.
The Marines previously thought Faruk Al-Bashir was responsible for the events in the story, but during a capture mission, the Misfit team of Quinton Cole and Henry Blackburn discovered the truth that Solomon was in fact the mastermind behind all the chaos.
Weapons
[
]
The PLR uses a variety of infantry weapons ranging from assault rifles, machine-guns, sniper rifles, shotguns, and rocket launchers. Weaponry varies based on PLR forces' type - regular soldiers in Iran use mainly Russian/Iranian guns, while undercover cell operatives in Europe/USA are usually equipped with less-standardised, local weaponry.
Assault Rifles
[
]
PDW's
[
]
Light Machine Guns
[
]
Carbines
[
]
Sniper Rifles
[
]
Shotguns
[
]
Explosives
[
]
Pistols
[
]
Other
[
]
Vehicles
[
]
Notable personnel
[
]
Gallery
[
]
Trivia
[
]