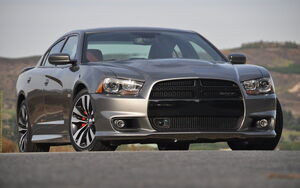 The Dodge Charger LX is an American four-door Sedan first produced in 2005. A continuation of the Charger line, the LX replaced Dodge's older Intrepid model as their flagship full-size sedan. The second generation 2012 Charger LX SRT8 (Street Racing Technology) model incorporates a 465 horse-power engine and can reach 60 MPH in just over 4 seconds. A special version of Charger known as the Charger Pursuit is also available for Law Enforcement use.
The 2012 Charger SRT8 appears in Battlefield Hardline as the Performance Sedan.
Battlefield Hardline
Edit
The Performance Sedan is a Sedan introduced in Battlefield Hardline: Getaway, and appears exclusively on maps from the expansion, replacing the Squad Car for Law Enforcement during certain gamemodes. Its Criminal counterpart is the Import Tuner.
The Performance Sedan is a unique vehicle in that it combines the speed of the Coupes with the four player carrying capacity and durability of the normal Sedans. This allows players to transport squads quickly across the large maps featured in Getaway, while still being reasonably protected while the passengers remain in the vehicle. Like the Squad Car, the vehicle is unarmed, but the three passengers are able to use weapons and equipment while in the vehicle, and are able to either fire from the seat or sit on the window frame by hitting Prone to fire over around the car.
Despite being categorized as a Sedan, the Performance Sedan cannot equip any vehicle specializations, but like all ground vehicles will still receive a boost and improved impact resistance with Stunt Driver equipped.
The Performance Sedan uses the same model as the Squad Car, with its police lights and ram bar removed.
Community content is available under
CC-BY-SA
unless otherwise noted.