Cut content
The subject of this article, Poison Gas, has been cut from the final version of a Battlefield game.
For gas/chemical weapons, see Gas.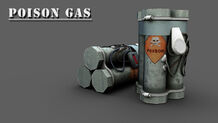 Poison Gas was a cut weapon in a very early version of Battlefield 2: Special Forces. There is very little information of the weapon, the only evidence of Poison Gas is that it was supposed to poison enemies when they were underwater. The underwater levels, diving, and Poison Gas were cut.