| | |
| --- | --- |
| | This article is a stub as it is considered incomplete. Why not help out? |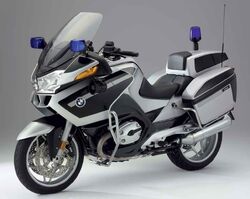 The BMW R 1200 RT-P is a motorcycle produced by BMW Motorrad and is the police variant of the civilian R 1200 RT. The vehicle is distinguished from the civilian model by the addition of stainless steel protection bars situated about the front fairing and panniers, also often used for mounting of additional equipment such as sirens. It also features unique top-loading panniers, a single seat, additional switch gear for equipment, emergency lighting, and an additional auxiliary battery which feeds all public safety electrical equipment. The vehicle is widely used by Law Enforcement agencies across the world.
The R1200 RT-P appears as the Police Motorcycle in Battlefield Hardline, acting as the urban motorcycle for Law Enforcement.
Battlefield Hardline
[
]
The Police Motorcycle is a vehicle featured in Battlefield Hardline. It is the Law Enforcement Street motorcycle, replacing the Offroad Patrol Bike on urban maps like Downtown and Derailed.
The bike is highly maneuverable and can seat two players, one driver and one passenger. It functions similarly to the Dirt Bike of Battlefield 3 and Battlefield 4. The passenger has a nearly 360° view and can use their personal equipment to defend or attack, like the Mechanic's grenade launchers or the Enforcer's Breaching Charge. Boosting will cause the bike to move faster and the driver will perform a wheelie, somewhat impeding the passenger's ability to aim to the front.
The motorcycle is very lightly armored and both players are highly exposed to gunfire, though its high speed makes it difficult to hit with explosives. Like other Law Enforcement vehicles, the Police Motorcycle's horn is replaced with police lights and sirens.
Players can receive a "Jump Bonus" by performing high-speed and high altitude jumps off of map terrain with the bike. The bonus awards more points for higher jumps than shorter ones.