Royal Marines is a Codex Entry featured in Battlefield 1, introduced in the Turning Tides expansion. It is unlocked by playing one round as the Royal Marines.
Transcript
Edit
TURNING TIDES
Edit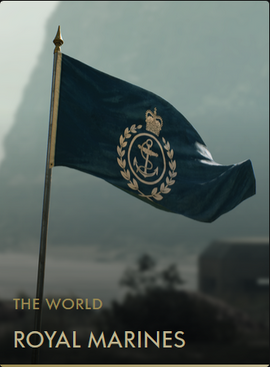 British Royal Marines were traditionally light infantry that accompanied the Royal Navy into the conflict zones of the empire. The marines were navy sailors, whose mission it was to provide the first landing party or secure beacheads using amphibious operations. Their uniform was navy-blue with splashes of khaki, they were allowed to grow beards, and they only received naval pay for a long time, which was less than army pay. In August 1914, Winston Churchill, then First Lord of the Admiralty, wanted the inclusion of surplus naval and light artillery into the Royal Marines reserves to create the 63rd Royal Naval Division. The division first supported the British forces at Antwerp, and later fought at the Battles of Gallipoli, the Somme and Passchendaele.
Community content is available under
CC-BY-SA
unless otherwise noted.