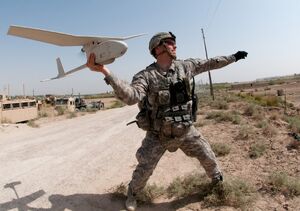 A Small Unmanned Air Vehicle (SUAV), or Miniature UAV, is a type of unmanned aerial vehicle (UAV) small enough to be man-portable, including the Micro Air Vehicle as a subclass. Larger SUAVs monoplanes are typically launched by throwing or slingshot, and continue flying on their own.
The SUAV in Battlefield 4 is based on the AeroVironment RQ-11 Raven.
Battlefield 4
Edit
The SUAV is a gadget for the Recon kit featured in Battlefield 4: China Rising. It is a small monoplane fitted with a monochrome camera and a laser designator. It is unlocked upon the completion of the Safe Raiding assignment.
By maintaining heading towards a vehicle target, the on-board laser designator can mark targets for guided weaponry. The SUAV also has an on board motion sensor on it, similar to the MAV.
Once thrown, the operator immediately takes remote control of the SUAV. Though its endurance is limited, it is much longer than most other time-limited gadgets and weapons, perhaps a few minutes. Its average airspeed is 20 meters per second. Unlike the MAV, the SUAV's monoplane design and forward-facing camera prevent it from loitering for too long in any one area. After each use another SUAV will regenerate after a relatively short time.
The SUAV has lethal capabilities. Crashing directly into an enemy player will kill them and count as a roadkill. This is useful for taking out enemies at long distances while remaining in a safe spot.
Like other laser designators, its red beam is easily seen by those in its path, which makes it easily detectable.
The SUAV has limited battery power. The SUAV will cease function when its battery runs out.
Achievement/Trophy
Edit
Main article: Battlefield 4 Achievements and Trophies
| | | | | |
| --- | --- | --- | --- | --- |
| Image | Name | Criteria | Achievement Points | Trophy Type |
| | Mini Kamikaze | 1 Kill with the SUAV | 30G | Silver |
The SUAV used to be capable of roadkilling enemy infantry. However, after the 17th of December update this was patched to stop people from exploiting it's use.

Prior to it being patched, the SUAV would fail to explode on impact with players, allowing the operator to potentially chain many kills from a single flight.

However, it is still possible to kill allies with the SUAV when playing on hardcore mode.
References
Edit
Community content is available under
CC-BY-SA
unless otherwise noted.