| | |
| --- | --- |
| | This article is a stub as it is considered incomplete. Why not help out? |
For other helicopters with the similar title, see Scout Helicopter (Disambig)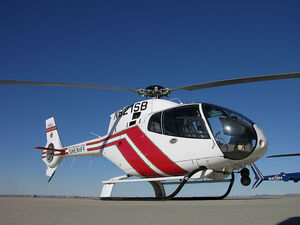 The Airbus, formerly Eurocopter, EC120B Colibri (English: Hummingbird) is a single-engine 5 seat light utility helicopter. The Colibri is designed for usage in various civil and parapublic roles, including utility transport, law enforcement, casevac, and corporate transport. The helicopter is capable of carrying 2.94 cubic meters of cargo, and can be equipped with FLIR cameras, spotlights, and other tools. The Colibri is currently in use with several Law Enforcement agencies and functions as a training helicopter for various military forces, notably including the People's Liberation Army.
Battlefield Hardline
[
]
"Light transport helicopter designed for reconnaissance and quickly taking agents to conflict areas."
— In-game description
The Pursuit Helicopter and Response Helicopter are Scout Helicopters introduced in the Battlefield Hardline: Robbery expansion. Both vehicles share the same body type and only differ aesthetically, with the Pursuit Helicopter having a fenestron tail rotor while the Response Helicopter has an open rotor; gameplay-wise the helicopters function identically.
The Scout Helicopters function as a middle ground between the Transport Helicopters and Attack Helicopters, capable of holding multiple players like the transports but being small and maneuverable like the attack helicopters. Unique to the Scout Helis, however, is the fact they are unarmed; the only offensive capabilities they possess are passengers being able to shoot out of the helicopter and performing Roadkills. This regulates the choppers to a much more supportive role than the other helicopters, mostly being a dedicated transport to quickly ferry players around the map. They are uniquely able to equip the Mobile Resupply vehicle upgrade, allowing them to resupply teammates around the vehicle.
Gallery
[
]