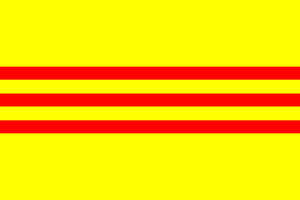 South Vietnam (or the Republic of Vietnam) was a state that occupied the southern half of modern Vietnam.
During the 1950s, the South Vietnamese administration fought off communist groups until, in 1963, the Vietnam War broke out with North Vietnam. During this time, the United States and it's allies aided South Vietnam and together were able to push back the communist invaders, who in turn were aided by China and the Soviet Union, among others.
In 1973, a treaty was signed with North Vietnam to cease its invasion attempts on South Vietnam and the United States withdrew. Soon after, North Vietnam broke the treaty, conquering the South Vietnamese capital of Saigon in 1975, unifying the two states into the modern Vietnamese state.
Armed Forces
Edit
Military Branches
Edit
Appearances
Edit
Battlefield Vietnam
Edit
The majority of the battles featured in Battlefield Vietnam take place in South Vietnam - with a handful in North Vietnam or Cambodia.
Battles in the South include:
Battlefield: Bad Company 2
Edit
Although not featured as a faction in the game, South Vietnam also appears as a significant location in Battlefield: Bad Company 2: Vietnam. South Vietnamese maps in this game include:
Community content is available under
CC-BY-SA
unless otherwise noted.