For similar aircraft, see Su-30 Flanker-C and Su-35BM Flanker-E
Cut content
The subject of this article, Su-37 Flanker-F, has been cut from the final version of a Battlefield game.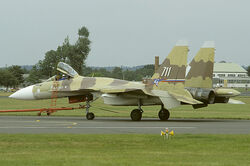 The Sukhoi Su-37 (Russian: Сухой Су-37, NATO reporting name: Flanker-F) is an experimental single-seat, super-maneuverable multi-role jet fighter designed by Sukhoi. A further development of the original Su-27 "Flanker", it was modified from the first-generation Su-35 (formerly "T10M") prototypes. Despite demonstrating several tactical advantages, the Su-37 did not enter production, and instead remained as a technology demonstrator for updated Su-27 family aircraft such as the export Su-30 and the Su-35BM (of which it was developed from).
Battlefield 3
Edit
The Su-37 Flanker-F is seen at the end of the Full-Length Fault Line Trailer. It is seen flying by an F-16 Fighting Falcon and soon hit by two missiles. It was cut before release and does not appear in the final version of the game. The Su-37 canards were removed from the aircraft model and later appeared (with a new camouflage) as the Su-35BM Flanker-E, another version of Sukhoi's "Flanker" series.
The game files of the mission "Going Hunting" refer to the Su-37 instead of the Su-35BM, hinting that the Flanker-F was removed halfway through development[1]. Unlike the cut F-16, most of the Flanker-F's vehicles files remained in Battlefield 3's, including most of its textures, although they remained unused.
References
Edit
↑ SP_Jet_SFX_SU37_Flares_Wave 0 0 0
Community content is available under
CC-BY-SA
unless otherwise noted.