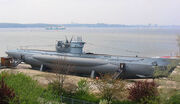 The U-boat Type VIIC was a German class of submarines commissioned between 1940 and 1945. There were 568 commissioned, the most of any class of German submarines during World War II. It was armed with 5 torpedo tubes (4 in the front and 1 on its stern), though a few of them only had two frontal tubes, and some few others lacked the tube on its stern.
Battlefield 1942
Edit

The Sub7C is a Imperial Japanese Navy submarine featured in Battlefield 1942. It only has space for a single player, which navigates the vessel and has control over its two frontal torpedo tubes. The torpedoes can be fired when at surface depth, and they are capable of sinking most surface ships, although it can be difficult to achieve a kill in this manner. It is the Axis equivalent to the Allied Gato.
Appearances
Edit
Battlefield V
Edit
A Type VII Submarine appears as an unusable vehicle in Battlefield V. It features in the final act of the Nordlys War Story, having been tasked with transporting barrels of heavy water from the Rjukan Hydro plant back to Germany. The shipment along with the submarine is destroyed after the captured Astrid sacrifices herself with a hand grenade.
Community content is available under
CC-BY-SA
unless otherwise noted.