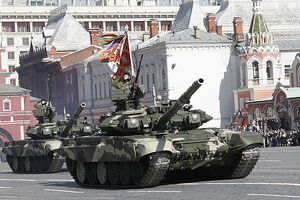 The T-90 is a third generation Russian MBT (Main Battle Tank). It is a modernized version of the T-72 Tank and was originally called the "T-72BU" and later renamed, with the T-90A variants being featured in the Battlefield series. Production began in 1995 and is still ongoing today, it was designed by Kartsev-Venediktov and manufactured by Uralvagonzavod in Nizhny Tagil.
The T-90 is armed with a 2A46M 125mm smoothbore cannon, a coaxial PKT machine gun, and a remote controlled NSVT 12.7x108mm heavy machine gun (which was later replaced by the KORD heavy machine gun). The T-90 is currently in service with the Russian Ground Forces, as well as a number of other nations.
When the player first enters a T-90 in Crossing Over, Haggard will say "Actually, forget Truckasaurus! When I get that gold I'm gonna buy one of these!".
The T-90 is the most encountered MBT in the game, and is the MBT the player can spend the most time with, considering the number of missions it is featured, and how much it appears during a single mission it is featured in.
Despite the sound effects is that of the KORD machine gun, the remote-controlled .50 HMG uses the model of the M2 Browning. This is weird considering the Russian military use the KORD as the faction's HMG, being mounted on many other vehicles. This trait also presents on the BMD-3, 2T Stalker, and the Black Eagle, with each vehicle uses a different sound for the machine gun.
Battlefield: Bad Company 2
[
edit
|
edit source
]
On Cold War, this is the only time where the player needs to destroy a T-90 with an airstrike, and the only time where it is seen engaging the player.
Also, there are several rows of T-90s driving on the bridge at the background in Heavy Metal, however, they cannot be destroyed.
It was first seen in a destruction demonstration in an EA PWNED video, the barrel of a T-90 can be seen destroying a part of a building.[2]
Community content is available under
CC-BY-SA
unless otherwise noted.