Roblox: DeepWoken - The Loop
Play Sound
| | |
| --- | --- |
| | This article is currently under construction. It may contain little or inaccurate information. |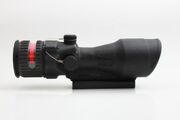 The Trijicon TA648-308 ACOG is an American 6x rifle scope. Using fiber-optic and Tritium-based lighting, the scope is self-illuminated while remaining battery-less and waterproof.
Battlefield 4
[
]
"A high magnification standard issue 6x Chinese scope for taking out targets at moderate distances."
— Battlelog description
The CL6X (6X) is a sniper rifle scope featured in Battlefield 4.
It is the Chinese equivalent of the American Rifle Scope and Russian PKS-07. The CL6X features the lowest magnification of all sniper rifle scopes at 6x. Like all sniper rifle scopes, it is compatible with the Variable Zoom attachment, boosting its magnification to 14x. The scope uses a ballistic reticle similar to that of Battlefield 3's Ballistic Scope, although with thinner crosshairs.
Singleplayer
[
]
The CL6X appears as a preset optic attached to the Scout Elite.
Multiplayer
[
]
The CL6X is the default scope for the CS-LR4 and the FY-JS. It must be unlocked through Battlepacks for other sniper rifles. It also is equipped on the AMR-2 MID Battle Pickup.
Gallery
[
]
Battlefield Hardline
[
]
| | |
| --- | --- |
| | This Section is currently under construction. It may contain little or inaccurate information. |
"A 6x magnification self-luminous tactical rifle sight with ballistic drop compensator incorporated in the reticle"
— Battlelog Description
The TA 648 (6x) is an attachment featured in Battlefield Hardline. It is available on all primary weapons of the Professional class.
It has the lowest zoom level of the available sniper scopes, and features a unique reticle, with a dot-and-ring similar to the PKA-S in the center, and hashes for distance beneath it, similar to the ACOG. These traits make it the sniper scope best suited for medium range shooting and acquiring targets quickly, while the other scopes are better for long-range sniping.
Gallery
[
]
Trivia
[
]
Battlefield 4
[
]
The text "国家财产" ("State Property") is written on the left side of the scope.