Tank Hunters is a Codex Entry featured in Battlefield 1. It is unlocked upon retrieving the first engine component in the chapter Breakdown of the singleplayer mission Through Mud and Blood.
Transcript
Edit
GERMAN TANK RECOVERY IN WORLD WAR 1
Edit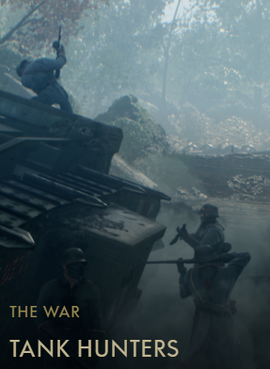 Since the first tanks broke down at the Somme in 1916, German engineers had closely examined the new war machines of their enemies, and after the Battle of Cambrai in 1917, the German army was in possession of a large number of broken down but only lightly damaged British Mark IV tanks, which they intended to use against their previous owners.
The "Beute-Mark IV" were towed behind German lines and into automobile workshops, where engineers would then exchange the tank's guns for German calibers, sometimes even replacing the machine guns of the "female" version of the tank with 13mm anti-tank rifles."
Community content is available under
CC-BY-SA
unless otherwise noted.