The Armored Train is a Codex Entry featured in Battlefield 1. It is unlocked upon obtaining ten kills with the Armored Train.
Transcript
Edit
A LEGEND NAMED ZAAMURETS
Edit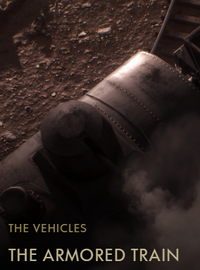 Literally of self-propelled war machine, a battleship on rails, constructed at the Odessa railyard in 1916. Armored trains became platforms for both heavy artillery guns, usually taken from battleships, and defensive mobile machine gun positions.
This particular mechanical beast, the Zaamurets, had two 57mm gun turrets and eight machine guns for protection in Galicia for the Russians, and later saw action with the Czechoslovak Legion where it was renamed "Young Eagle", until it was eventually captured by the Japanese in Siberia. It lived past the armsistic in 1918 and fell into many different hands in the remnants of the Russian Empire. Its ultimate fate remains unknown, and there are plenty of legends surrounding it.
Community content is available under
CC-BY-SA
unless otherwise noted.