The St. Quentin Scar is a Codex Entry featured in Battlefield 1. It is unlocked by winning any gamemode on St. Quentin Scar.
Transcript
Edit
OPERATION MICHAEL 1918
Edit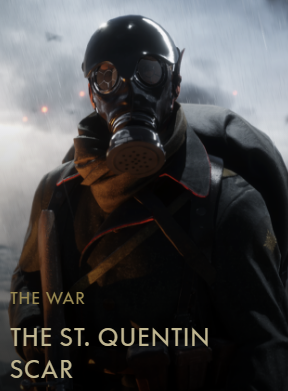 With Russia out of the war, German was free to transfer hundred of thousands of battle-hardened troops to the Western Front to try to break the stalemate there. They hoped to win the war through a single decisive blow.
The Americans had not yet arrived in force and the British and French were exhausted from the battles of 1917. It was time to strike.
Operation Michael would be the first battle of the new offensive, and was to punch through the British 5th Army and outflank the 3rd near St. Quentin, an area that was by then an endless no man's blasted landscape of devastation, with the aim of finally capturing the vital Allied railway hub of Amiens.
The battle began with one million artillery shells raining down on the British in five hours. Headquarters, communications, and artillery were destroyed. With surprise on their side German stormtroopers overwhelmed the British defenses, ripping a gap over 60km long in their lines. This was the beginning of the Kaiserschlacht.
Community content is available under
CC-BY-SA
unless otherwise noted.