Torpedo Exploit is a Codex Entry featured in Battlefield 1. It is unlocked by obtaining ten headshots in the chapter Cape Helles in the singleplayer mission The Runner.
Transcript
Edit
THE DARDANELLES TORPEDO EXPLOIT
Edit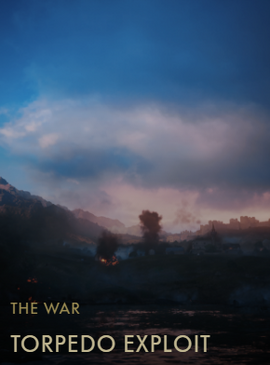 Ordered to disrupt the maritime supply lines of the Ottoman Empire around the Gallipoli peninsula, Lieutenant Commander Norman D. Holbrook slowly maneuvered the submarine B-11 through narrow minefields and strong currents. It was there that he spotted the Turkish battleship Messudieh anchored in Sari Sighlar Bay. Firing two torpedoes, he was himself spotted and came under heavy fire. Both of his torpedoes were hits, causing the Messudieh to sink within minutes.
Narrowly escaping enemy fire several times on his retreat, he was awarded the Victoria Cross, the first for naval personnel of this war.
Community content is available under
CC-BY-SA
unless otherwise noted.