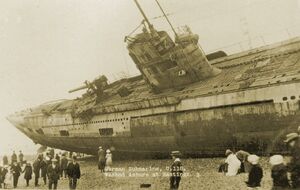 The Type UE II submarines were a class of submarines (U-boats) built by the German Empire during World War I. Nine Type UE II submarines commissioned into the Kaiserliche Marine. Two of which were seen in Battlefield 1: SM U-117 and SM U-118.
SM U-117 was most successful U-boat of its class, sinking 21 ships. SM U-118 was famous for having been beached at Hastings, Sussex after surrendering and transferred to France to be scrapped in 1919.
Battlefield 1
Edit
Unusable U-boats can be seen on Heligoland Bight and Zeebrugge.
One U-Boat is found on Heligoland Bight, marked as U-118, beached on a small islet in a cove. The islet its beached on is the capture zone for a flag with its name U-118.
There are two U-Boats on Zeebrugge marked U-117 and U-118. U-117 is found in the Submarine Pen flag. U-118 is found near Munitions Dock.