Roblox: DeepWoken - The Loop
Play Sound
"The UD-12 Shepherd was developed with a single purpose, to convey military personnel into the combat arena, dropping soldiers via spherical, quick-drop escape pods. Slow moving, but direction flexible, the Shepherd draws on a marriage of multi-source jet propulsion and hover technology to travel long distances at a mid-level altitude. The UD-12 is shelled in composite, electrically charged armor lined with Nomex fiber and relies on two medium-caliber, bipod-mounted automatic machine guns to repel assailants."
— Prima Official Game Guide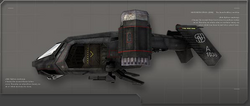 The UD-12 Shepherd VTOL is a VTOL (Vertical Take Off and Landing) aircraft used by the European Union in the 22nd Century. It is encountered in Battlefield 2142, being a usable aircraft.
Specifications
[
]
Weaponry
Two Medium Caliber Gatling Guns with EXPL Rounds.
Armor
Electrically charged Composite
Nomex Fiber Lining
Defenses
Capacity
One Pilot
Two Gunners/Passengers
Four Seated Passengers
Propulsion
Two Multi-Source Jet Pods