| | |
| --- | --- |
| | This article is a stub. It is short and in need of fortification. Why not help out? |
| | |
| --- | --- |
| | This article is currently under construction. It may contain little or inaccurate information. |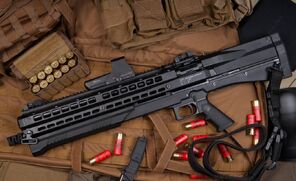 The UTS-15 is a 12 gauge pump-action shotgun designed by UTAS Makine of Turkey as a result of a request made by Smith & Wesson in 2006. Constructed primarily of fiber reinforced injection molded polymer, the UTS-15 weighs 6.9 lbs. Additionally, there is a top mounted Picatinny rail for the mounting of a wide variety of both iron and optical sights, coupled with Beretta style barrel threading for choke tubes.
The UTS-15 feeds from two magazine tubes above the barrel, each capable of holding seven 2.75″ shotshells.[1] With an additional shell in chamber, the weapon can carry 15 shells fully loaded. A selector switch allows the gun to chamber rounds from either barrel, or alternate between the two.
Battlefield 4
[
]
The UTS-15 is a Shotgun featured in Battlefield 4.
Singleplayer
[
]
The UTS-15 is unlocked by completing the Silver assignment in the mission Baku by scoring 4000 points. It features a Reflex and Muzzle Brake while it sports an ERDL Desert finish.
Multiplayer
[
]
The UTS-15 is the seventh all-class shotgun unlocked, after the SPAS-12 and before the DBV-12, requiring 48,000 Shotgun score. It is a high capacity, pump-action shotgun that is offset by a slower reload and a lower pellet count of ten. This larger capacity makes the weapon more forgiving of missed shots in individual engagements at the cost of longer downtime, as shells are loaded in an alternating fashion - much slower overall than bottom-loading shotguns such as the 870 MCS or M1014.
Gallery
[
]
Trivia
[
]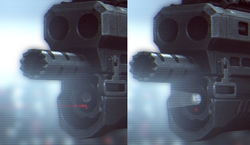 If any laser, flashlight, or the Laser/Light Combo is equipped, the beams will come from an integrated laser/light module under the barrel, rather than mounting an attachment.

When equipped with a Green Laser sight, the laser aperture will remain red while the laser itself will be green.
Weapons of

Battlefield 4

Assault Rifles
Personal Defense Weapons
Light Machine Guns
Sniper Rifles
Carbines
Designated Marksman Rifles
Shotguns
Sidearms
Battle Pick Up
Unusable Weapons
References
[
]