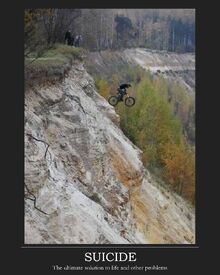 That Guy at the Top-Left Corner of Your Screen
Edit
Hello. I am a person. I'm not a special person. I'm not a rocket scientist or a soldier or a firefighter or anything interesting like that. But I'm definitely not ordinary, either. Does that make me below the ordinary person? I don't know. In fact, I'm not that sure I know that much about me. If you care enough about me to read this, you probably could have written a better bio for me than I have. But you don't have that power because you aren't me and I'm not you. Therefore we are not the same. We are not equal. If I'm not like you, who am I? I certainly am not nobody. I stated that I'm a person earlier. I'm not like you. I'm not like anyone I know. I'm just...me.
Cool Fool is...
Edit
Reclaimer8623 on Xbox Live
Canadian
not homosexual, contrary to popular belief
male
not female (just had to make that clear)
EXTREMELY old (I'm talking teenager-old)
a Halo fanboy
a biologically living organism under the homo sapiens species, located in the Sun Star System in the Milky Way
so intellegent he spelled intelligent wrong
a proud owner of Bad Company 2, Battlefield Heroes, and Bad Company...Demo?
a trusted user
awesome
really awesome
The Purpose of Life
Edit
"The purpose of life is to not be dead." -Cool Fool
My favorite pages
Edit
This one
My talk page
My talk page on Halopedia
Community content is available under
CC-BY-SA
unless otherwise noted.