Grammar rules ( ͡° ͜ʖ ͡°)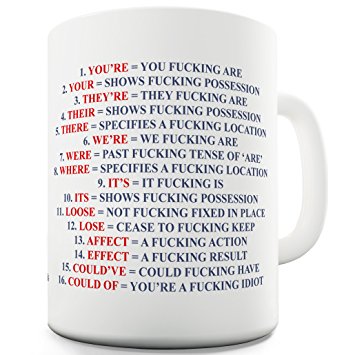 Humorous IMFDB quotes about Battlefield
"The Russian soldier was about to discover that closing his eyes would not in fact make the scary man go away."
— IMFDB about Bad Company's player aiming at a Russian soldier who apparently had his eyes closed
"Preston Marlowe was transferred to Bad Company due to his inability to master the concept of a door."
— about having blown up a wall directly next to an open door
"Preston prepares to attack an AT-14 launcher with his happy grenade."
— about the smiley face on the "HG-2" grenade
"Pictured: the automatic extractor in action. Not pictured: Antigravity field generator."
— about the mid-air casings ejected from the MP412 REX in BF3
"Vladimir uses his MP-443 as Bane, err one of Solomon's men, demonstrates how not to steal a car stereo."
— about a man with a familiar appearance who ends up through the windshield with his hand towards the stereo
"Dmitri Mayakovsky holds his MP-443 on Blackburn as he tries to blame everything on a fire extinguisher."
— about Dima berating the actions of "this piece of shit right there" while staring elsewhere than Kaffarov
"The 20-round magazine for the MP7A1 frequently glitches and fails to appear during the campaign; here in "The Great Destroyer" Blackburn reloads one with a large flash suppressor, IRNV scope and laser pointer... whereas earlier he just told his vanilla one to imagine it was full of bullets that were this big."
— issues that make it seem like you're making some kind of gesture at the magwell with your empty hand
"Blackburn holds an AK-74M equipped with a PSO-1 scope during "Operation Swordbreaker." Weapons on the ground do not show their attachments or have text signifying what they have attached, meaning occasionally picking up a boring-looking vanilla weapon will result in the player character producing Excalibur as here."
— IMFDB
""MG36" on the customization menu. Note the 12x sniper scope attached, in case you feel the need to give suppressive fire from 1000+ meters."
— about an attachment that isn't really intuitive to the light machine gun role
"Dmitri Mayakovsky discovers a QJY-88 with the rare and for some reason unpopular linoleum-plated finish."
— about finding a Type 88 LMG with a non-textured (whitish) third-person model
"As usual for an FPS protagonist, Blackburn is of the "pick a random notch and use it like a regular iron sight" school of leaf sight use."
— about using the leaf sight of the M320 grenade launcher as if it were a conventional iron sight
"The player ponders the idea of putting AT mines inside a tire and rolling them toward a tank."
— about standing in front of a pile of tires and holding the similarly shaped M15 AT Mine
List of all portable weapons in the series
Note: weapons exclusive to Battlefield Heroes aren't included. Additionally, weapons highlighted in green are variants that are already part of other weapon pages.
Also note that many games have "general" classes of weapons (sidearms, assault rifles, machine guns, sniper rifles), while other have specific ones (pistols/heavy pistols/revolvers/machine pistols, pistol carbines/bolt-action carbines/assault rifles/battle rifles, bolt-action rifles/semi-auto sniper rifles/anti-materiel rifles, light machine guns/medium machine guns). I've chosen to list the specific classes, and regarding the weapons that are exclusive to games with general classes, I've put them in the specific classes according to what they would be in reality (for example, BF Vietnam doesn't have a "carbines" class, which resulted in the game categorizing the CAR-15 as an "assault rifle", but in my list I'm putting it in the carbines section).
Pistols (27)
American
Austrian
Belgian
German
Italian
Russian
Other
Fictional
Heavy Sidearms (10)
| American | British | German | Israeli | Russian |
| --- | --- | --- | --- | --- |
| | | | | |
Revolvers (17)
American
Austrian
Brazilian
British
Italian
Russian
Fictional
Machine Pistols (7)
| American | Austrian | Brazilian | Czech | Italian | Swiss |
| --- | --- | --- | --- | --- | --- |
| | | | | | |
SMGs / PDWs (52)
American
German
Russian
Austrian
Czech
French
Italian
Chinese
Swedish
Other
Fictional
Pistol Carbines (7)
| American | Belgian | German | Hungarian |
| --- | --- | --- | --- |
| | | | |
Non-Pistol Carbines (31)
| American | Belgian | German | Israeli |
| --- | --- | --- | --- |
| | | | |
| Chinese | Russian | Other | Fictional |
| | | | |
Assault Rifles (41)
(Note that the Johnson LMG, Breda Modello 30, and DP are actually light machine guns, but since they've been only classed as assault rifles in-game, I unfortunately have to list them here. I also have to list the Breda M1935 PG here (even though it's a battle rifle), since the other class of rifles is already used for the semi-auto rifles in Battlefield V.)
American
Belgian
British
Chinese
German
Israeli
Italian
Russian
Other
Fictional
Self-Loading/Battle Rifles (33)
(As a small note: among those self-loading rifles, the Autoloading 8, M1907 SL, Gewehr 1-5, Type-56, Fedorov Avtomat, and Fedorov-Degtyarev are the only ones that are not technically battle rifles. BF Vietnam lists the Type-56 as a battle rifle, but it's wrong.)
| American | British | German |
| --- | --- | --- |
| | | |
| Belgian | Chinese | French |
| | | |
| Russian | Other | Fictional |
| | | |
LMGs / Squad Support Weapons (36)
American
British
Chinese
German
Russian
Other
Fictional
Medium MGs / GPMGs / Heavy MGs (18)
(The ones highlighted in orange are general-purpose machine guns; note that these include the M60E4 and M60-ULT. As for the ones highlighted in aqua, they are heavy machine guns.)
American
German
Russian
Other
Fictional
Designated Marksman Rifles (8)
(For clarification: while the original SKS is Soviet, the model used in-game is a Yugoslavian variant)
| American | Belgian | Chinese | Israeli | Russian | Yugoslavian |
| --- | --- | --- | --- | --- | --- |
| | | | | | |
Semi-Auto & Full-Auto Sniper Rifles (19)
American
Russian
Belgian
Czech
German
Fictional
Bolt-Action & Lever-Action Rifles (37)
(The SRR-61 sometimes works in the anti-materiel role, but its round is less powerful than the others, and it is mainly used as an anti-personnel rifle, so I prefer to keep it here.)
American
British
Austrian
Chinese
German
Italian
Russian
Other
Anti-Materiel Rifles (6)
Shotguns (33)
American
Italian
Russian
South African
Chinese
Other
Fictional
Launchers (28)
American
German
British
Chinese
French
Russian
Swedish
Fictional
Special / other gadgets used as standalone weapons (30)
(The one highlighted in aqua is an anti-materiel rifle.)
| British | American | German |
| --- | --- | --- |
| | | |
| Other | Unknown | Fictional/Weird |
| | | |
Underbarrel/Muzzle-Attached Weapons (16)
Among these, the M26 MASS, M320, 40mm 3GL, and Enfield launcher are the only ones that can be used as standalone weapons.
American
German
Russian
Other
Fictional
List of all calibers for portable weapons in the series
(The ones highlighted in green are fictional. And per one of my comments above, BF Vietnam made the mistake of classifying a 7.62×39mm rifle as a battle rifle.)
For Pistols
Heavy Sidearms
Revolvers
Machine Pistols
Submachine Guns
Personal Defense Weapons

.32 ACP
9×19mm Parabellum
.45 ACP

5.7×28mm
7.62×25mm Tokarev
7.63×25mm Mauser
8×22mm Nambu
9×19mm Parabellum
9×23mm Steyr
9×25mm Mauser
.45 ACP

4.6×30mm
5.7×28mm
9×18mm Makarov
9×19mm Parabellum
.40 S&W
.45 ACP

Pistol Carbines
Carbines

7.63×25mm Mauser
7.65×25mm Borchardt
.32 ACP
9×19mm Parabellum
9×20mm Browning Long
.45 ACP

8×35mm Ribeyrolles
.45 ACP













Assault Rifles
So-Called "Assault Rifles"
Semi-Auto Rifles

5.45×39mm
5.56×45mm NATO
5.8×42mm DBP87
5.8×42mm DBP10
7.62×39mm

6.5×52mm Carcano
7.62×54mmR
.30-06 Springfield
.303 British
7.7×58mm Arisaka
7.92×57mm Mauser

.30 Carbine
7.92×33mm Kurz

Self-Loading Rifles
Battle Rifles
Single-Action Rifles

6.5×52mm Carcano
7×57mm Mauser
.303 British
7.92×57mm Mauser
8×50mmR Lebel
.351 WSL

7.62×39mm
7.62×51mm NATO
.303 British
7.92×57mm Mauser

6.5×50mmSR Arisaka
6.5×52mm Carcano
6.5×55mm Swedish
7.62×54mmR
.30-06 Springfield
.303 British
7.92×57mm Mauser
8×50mmR Lebel

Bolt-Action Sniper Rifles
Anti-Materiel Rifles
Full/Semi Auto Sniper Rifles

5.56×45mm NATO
5.8×42mm DBP87
.300 AAC Blackout
7.62×51mm NATO
7.62×54mmR
.30-06 Springfield
.303 British
7.92×57mm Mauser

5.56×45mm NATO
5.8×42mm DBP87
7.62×39mm
7.62×51mm NATO
7.62×54mmR
7.92×57mm Mauser
.338 Lapua Magnum
9×39mm

Designated Marksman Rifles
Light Machine Guns
Medium MGs / GPMGs

5.8×42mm DBP87
7.62×39mm
7.62×51mm NATO
7.62×54mmR

5.45×39mm
5.56×45mm NATO
5.8×42mm DBP87
5.8×42mm DBP10
7.62×39mm
7.62×54mmR
.30-06 Springfield
.303 British
7.92×57mm Mauser
8×50mmR Lebel

6.5×52mm Carcano
7.62×51mm NATO
7.62×54mmR
.30-06 Springfield
.303 British
7.92×57mm Mauser
8×50mmR Lebel

Shotguns
Launchers
Underbarrel/Muzzle-Attached Weapons

20 gauge buckshot
12 gauge buckshot
12 gauge flechette
FRAG-12
12 gauge slug













Special / other gadgets used as standalone weapons

.303 British
7.92×57mm Mauser
9mm Glisenti
Mills bombs












Games with the most weapons
1st
2nd
3rd
Highest numbers of weapons
123
(BF4)
106
(Hardline)
95
(BF1)
General sidearms
23
(BF1)
21
(Hardline)
17
(BF4)
General rifles/carbines
29
(BF4)
28
(Hardline)
24
(BF3)
General machine guns
15
(Play4Free)
14
(BF4)
13
(BF1)
General sniper rifles
15
(BF4 / Hardline)
14
(Play4Free / BF1)
11 [+1 in SP only]
(BF3)
Pistols
10
(BF1)
6
(BF4 / Hardline)
5
(BF5)
Heavy Sidearms
5
(BF4 / BF1)
4
(Hardline)
2
(Play4Free)
Revolvers
8
(BF1)
4
(BF4 / Hardline)
2
(BF3)
Machine Pistols
7
(Hardline)
2
(BF3 / BF4)
1
(BC2 / Play4Free)
SMGs/PDWs
17
(Hardline)
15
(Play4Free)
14
(BF4)
Pistol Carbines
6
(BF1)
2
(BF5)
N/A
Non-Pistol Carbines
13
(BF4)
11
(BF3)
7
(BF2 / Hardline)
Assault Rifles
14
(BF4)
13
(Hardline)
12
(BF3)
Self-Loading/Battle Rifles
12
(BF1)
8
(Hardline / BF5)
4
(BF1942)
Light Machine Guns
10
(BF1)
9
(Play4Free / BF4)
7
(BF3)
Medium MGs/GPMGs
6
(Play4Free)
5
(BF4 / BF5)
4
(BC / BC2 / BF3)
Designated Marksman Rifles
8
(BF4)
N/A
N/A
Bolt & Lever Action Rifles
14
(BF1)
12
(BF4)
8
(Hardline)
Semi & Full Auto Sniper Rifles
6
(Play4Free / BF3 / Hardline)
4
(BF5)
3
(BC / BC2)
Anti-Materiel Rifles
2
(Play4Free / BF4 / BF5)
1
(BF2 / BF2:MC / BF2142 / BC / BC2 / Hardline)
[1 in SP only]
(BF3)
Shotguns
10
(BF4)
8
(Hardline)
7
(BC / Play4Free / BF3)
Special
5
(Hardline / BF1)
2
(Vietnam's WWII mod)
1
(BF4 / BF5)
Launchers
11
(BF4)
5 [+1 in SP only for BF3]
(Vietnam / BF3)
4
(BF2:MC / BF2142 / Hardline)
Other standalone Gadgets used as weapons
7
(Hardline)
5
(BF4 / BF1)
4
(BF3 / Hardline)
Weapons that I would have put in Battlefield V
(I had to move some already available weapons into different categories; those specific weapons are highlighted in gold)
Sidearms:

Walther P38
Ruby pistol
Luger P08
M1911A1
FP-45 Liberator

Shotguns:

Browning Auto-5
Winchester M1897

Submachine Guns:

Sten Mk II
Suomi KP/-31
Erma EMP
MP40
MP34
Thompson M1928A1

Bolt-Action Carbines:

Semi-Auto Carbines:

M1A1 Carbine

Luger LP08 carbine

Semi-Auto Rifles:

Volkssturmgewehr
Ag m/42

ZH-29

Automatic Rifles:

Bolt-Action Rifles:

Mannlicher M95/30
Krag-Jørgensen
Lee-Enfield No.4 Mk.I
Karabiner 98k

Semi-Auto Sniper Rifles:

Anti-Materiel Rifles:

Light Machine Guns:

Bren gun
Lewis gun
Madsen machine gun

MG 30

---

Medium/General-Purpose MGs:

MG 34
MG 42
Vickers K No.2 Mk.1

Special:

Gadgets:

PIAT
No.1 Mk.I Cup Discharger
Leuchtpistole