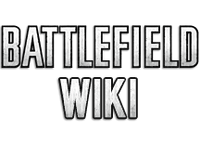 Welcome to the Battlefield Wiki, 017Bluefield! Thank you for your edit to Henry Blackburn
You may want to introduce yourself at Forum:New Users
New to the community? Your first stop should be the Community Portal, where you'll find helpful links about editing and the community - including our rules and our features
Questions? Feel free to ask on my talk page; I'm always happy to help.
If you need anything more, talk to an administrator or one of our trusted users
(identifiable by coloured usernames - gold/purple and teal respectively)
I hope you enjoy editing on the wiki, see you around!
- -- DEathgod65 (Talk) 05:04, April 3, 2013
Wiki Mobile
Edit
I edit the wiki on my phone all the time. When on the Wiki Mobile layout, at the bottom of every page, there is a "desktop view" or "go to full site". It automatically makes it go to the normal browser layout like on your computer and then you can edit that way. --

awyman13 Talk Work 03:22, November 2, 2013 (UTC)
I used my iPod touch's Safari, and that was before I could edit the Wikia without having to mess with the URL. At the time, there was no button like that. - 017Bluefield (talk) 01:21, April 12, 2014 (UTC)
Good work editing the naval strike trailer. Very good job! :)-- Hyperborrean22Talk 11:05, April 9, 2014 (UTC)
Community content is available under
CC-BY-SA
unless otherwise noted.