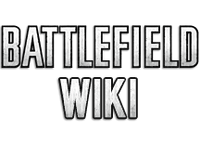 Welcome to the Battlefield Wiki, A.gao.96! Thank you for your recent edits
New to the community? Your first stop should be the Community Portal, where you'll find helpful links about editing and the community - including our rules and our features.
Questions? Feel free to ask on my talk page; I'm always happy to help.
If you need anything more, talk to an administrator or one of our trusted users
(identifiable by coloured usernames - orange/gold and teal respectively)
I hope you enjoy editing on the wiki, see you around!
- Slopijoe (talk) 16:00, February 27, 2018 (UTC)
In terms of militaries/conflicts, we use what are present in that game.
So for example: The French and Canadians are present in BF1942, they will go in the infobox. Sadly china was not featured in any BFs set during WW2 at this time.
--

Slopijoe/Osaka_amd

Defender of the Balkans

18:06, February 28, 2018 (UTC)
Community content is available under
CC-BY-SA
unless otherwise noted.