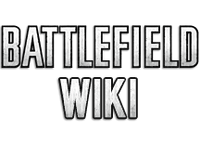 Welcome to the Battlefield Wiki, As-salamu-Alaykum! Thank you for your edit to Frostbite
You may want to introduce yourself at Forum:New Users
New to the community? Your first stop should be the Community Portal, where you'll find helpful links about editing and the community - including our rules and our features
Questions? Feel free to ask on my talk page; I'm always happy to help.
If you need anything more, talk to an administrator or one of our trusted users
(identifiable by coloured usernames - gold/purple and teal respectively)
I hope you enjoy editing on the wiki, see you around!
- -- Doc.Richtofen (Talk) 18:05, 20 April 2012
And upon you be peace!
Edit
Wa alaikum as-Salaam! :)

PLR Soldier

18:26, March 30, 2013 (UTC)
Vandalism
Edit
Thanks for helping clean up the vandalism that anon left. PLR hasn't really been active for a while, so I've contacted another admin. Thanks! -

Apprentice125(Talk)16:53, September 2, 2014 (UTC)
You're welcome, I've informed the PLR Soldier to block him permanently ASAP. As-salamu-Alaykum (talk) 16:59, September 2, 2014 (UTC)
Thank You
Edit
For helping with reverting that vandalism and warning the users. They have been taken care of. Apologies for the delay, I have been gone for a few weeks. Take care, brother.

PLR SoldierTalk

19:53, September 2, 2014 (UTC)
Community content is available under
CC-BY-SA
unless otherwise noted.