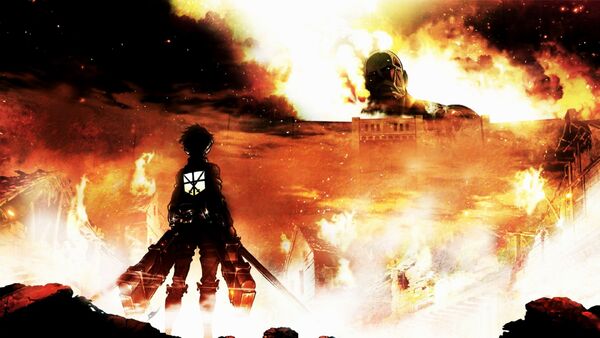 "I want to see and understand the world outside. I don't want to die inside these walls without knowing what's out there! On top of that, if no one takes on their jobs, then those who lost their lives will have died in vain!"
- Eren Jaeger
Archives
Re:
Yeah, thanks! Glad you figured that out. -- A2AContact 03:01, April 11, 2014 (UTC)
Attachments
Uploaded all the sights, going to start working on adding them to their pages. A lot of them are referred to by their real life names in the files, it okay if I mention that in the trivia? -

Apprentice125(Talk)03:44, April 11, 2014 (UTC)
Just checking, Reflex and Holographic Sight already had something similar in the trivia for BF3, which I kind of think seems appropriate, but I'll hold off from adding it for the rest. -

Apprentice125

(

Talk

)03:57, April 11, 2014 (UTC)
Re: Since I never saw you on steam
Thanks Awy! Feels weird to be 18 now. 
10,000 Edits
Congrats! :D

PLR SoldierTalk

18:59, April 11, 2014 (UTC)
Pretty sure everyone's edits are somewhat inaccurate. :P PLR SoldierTalk 20:33, April 11, 2014 (UTC)
re: me
I left this for a day so it keeps cold. I don't want this to turn into something it totally is not.
I intruded because that kind of bluntness was what caused me to go and "troll" and made "our wiki out to be [the CoD wiki's] enemies" (as I've seen the others refer to it.) I didn't mean to undermine you (and I'm sorry if you feel that way), but I was not willing to sit back and watch on that occasion. I understand your upset and probably somewhat irked but I just meant to give a decent answer to prevent that user looking at the situation and only seeing their edits being destroyed for no reason (to them). I know it would be rare to get another me as I'm sure I'm a one in a million problem to you, but we have over 7 billion people on this planet so the chances aren't that slim. As for my comment to you, I meant it only to mirror how you talked to the user and demonstrate how that would affect them. Judging by PLR's reaction, not positively. Sorry if it came across as aggressive.
Once again I don't want you to (or anyone else) to be offended by this but I am an editor here too and will make a point when I feel it is necessary. Now let's leave it at that Awy, I really don't want anything to start over this friend.-- Hyperborrean22Talk 08:24, April 12, 2014 (UTC)
p.s. congratulations on 10,000 edits! :)-- Hyperborrean22Talk 08:25, April 12, 2014 (UTC)
BF wiki emblem
What was wrong with the original?-- Hyperborrean22Talk 08:39, April 12, 2014 (UTC)
Re:
Sure, I think I'll just read the whole thing.

PLR SoldierTalk

17:07, April 14, 2014 (UTC)
Re: Emblem Ranks
I still see a Russian Medic.

PLR SoldierTalk

17:18, April 14, 2014 (UTC)
NEVER FORGET! :>

PLR SoldierTalk

20:55, April 14, 2014 (UTC)
Re: Favor
Uh, I can try, but I'm not sure those are on Battlelog, and I'm still trying to make sense of the extractor for BF4. You mean the icons from the Commander view, right? -

Apprentice125(Talk)03:41, April 16, 2014 (UTC)
Good bye.
Hey Awy. I've been thinking for a long while and recent events on another wiki (admittedly caused by events here...) have made me decide to leave wikia. I just wanted to say you have not caused this. Infact you made me actually want to stay but then I realised it's not going to be pleasant when you leave for USAF so there ain't no real point in prolonging the death of Hyper. (Not Brian, I'll make that clear. I'm not suicidal over this). I should say thank you for your continueing forgiveness and trust in me even though I never deserved it. I'm sorry if I've offended you in the past. I hope we can leave that in the past. I'm keeping you on PSN so I hope to one day steal you tags. Bye Austin! See you on the battlefield!--
Hyperborrean22
Talk
17:15, April 16, 2014 (UTC)
Community content is available under
CC-BY-SA
unless otherwise noted.