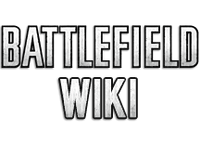 Welcome to the Battlefield Wiki, Brock 5050! Thank you for your recent edits
New to the community? Your first stop should be the Community Portal, where you'll find helpful links about editing and the community - including our rules and our features.
Questions? Feel free to ask on my talk page; I'm always happy to help.
If you need anything more, talk to an administrator or one of our trusted users
(identifiable by coloured usernames - orange/gold and teal respectively)
I hope you enjoy editing on the wiki, see you around!
- ArrowTwoActual (talk) 00:39, August 28, 2014 (UTC)
Operation Locker call outs
Edit
I undid your edit to Operation Locker; there isn't anything wrong with adding the callouts to the page but they don't get their own section or a labeled map. If you're planning on adding more, I'd suggest incorporating the call outs into the individual flag sections instead. -

Apprentice125(Talk)01:52, August 28, 2014 (UTC)
Community content is available under
CC-BY-SA
unless otherwise noted.