Welcome aboard
Edit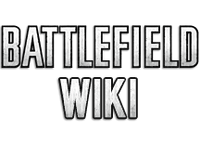 Welcome to the Battlefield Wiki, Btzkillerv! Thank you for your edit to 222nd Army Battalion Here's some tips on how you can help:
Questions? You can browse through the forum, or alternatively, ask on my talk page; we're always ready to help.
I hope you enjoy editing on the wiki, soldier!
- -- Heatedpete (Talk) 12:48, 2 November 2010
RE:Trivia
Edit
Oh, well I'm glad that you didn't take that the wrong way. Usually, someone would have probably stormed off in anger because we "destroyed their work". Anyways, when it comes to Trivia, we usually avoid any kind of IRL info. The only IRL info that should be included in any article should be at the very top the article. Since this is a Battlefield Wiki, those top sections should only reflect a base for in-game information. When it comes to factions and countries, we give a brief history to make sure there's a context as to why a certain country is involved in battles, etc. In the past, we've had trivia in the M16 page stating how the M16A2 of BFBC2 was actually an M16A4. Since that has no relevance to in-game information of the game, it should not be included in trivia. Basically, when you think of making IRL trivia, as yourself: "Does this have an effect on gameplay?" Hopefully this answers your question. If there's anything else, feel free to ask me or any other admin or trusted user. SSDGFCTCT9 (Talk) 14:08, November 5, 2010 (UTC)
Community content is available under
CC-BY-SA
unless otherwise noted.