Welcome!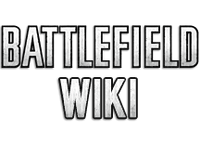 Welcome to the Battlefield Wiki, Lamicrosz! Thank you for your recent edits
New to the community? Your first stop should be the Community Portal, where you'll find helpful links about editing and the community - including our rules and our features.
Questions? Feel free to ask on my talk page; I'm always happy to help.
If you need anything more, talk to an administrator or one of our trusted users
(identifiable by coloured usernames - orange/gold and teal respectively)
I hope you enjoy editing on the wiki, see you around!
- Nayhem (talk) 17:58, March 19, 2017 (UTC)
Internal Name
Battlefield 4 (Multiplayer)
China Rising, Second Assault, Naval Strike don't have proper internal name
Battlefield 3 (Multiplayer)
XP4_FD = ? (Talah Market or Markaz Monolith?)
XP4_Parl = ? (probably Azadi Palace)
XP4_Quake = ? (probably Epicenter)
XP4_Rubble = ? (Talah Market or Markaz Monolith?)
Back to Karkand, End Game and Vanilla Map don't have proper internal name
Suggestion is appreciated
Battlefield 3 (Singleplayer)
Co-Op don't have proper internal name
Battlefield Hardline (Singleplayer)
sp_assault =
sp_chop_shop_raid =
sp_cop_fantasy = Prologue (?)
sp_deal_gone_bad =
sp_escape =
sp_everglades =
sp_heist =
sp_hollywoodhills =
sp_hotel_raid =
sp_nevada_desert =
sp_turn =
I probably need to play it first .__.
Battlefield Wiki Discord
Hey there. We haven't really talked before but I just want to say as a new editor you've done some great work for the place. Thought I'd let you know about the Battlefield Wiki Discord we've just set up, and if you'd be up for trying it out. We're hoping it'll be useful for discussing edits and just giving the regulars more opportunties to talk to each other. Here's the link - https://discord.gg/yrptjCK
See you around. - FluoxetinePatch (talk) 16:28, September 22, 2017 (UTC)
Weapon's HUD icons
Hey there,
I've noticed that you added the HUD icons to the ITNOTT DLC weapon's pages. Just want to let you know that I've added ingame pictures to the other ITNOTT DLC weapon's pages. These are: Perino, MG14, Mosin, Nagant Revolver & Obrez. Would be cool if you could add the HUD icons to these pages as well! (A picture of the C93 Carbine is impossible to screenshot out of the game as you can't customize it.)
Thanks and keep up the good work!
Wikipedia links
The syntax for these is [[wikipedia:pagename|]] or [[wikipedia:pagename|Not Page Name]], though these will appear like internal links. As you've found, [http://en.wikipedia.org/pagename Page Name] leaves an external link. Article if you ever need a link to a different wiki. — Nayhem (talk) 05:49, December 8, 2017 (UTC)
Battlefield 1 Class Pics
Hey man, just wanted to say good job with the pics. Pretty cool how you kinda tried to match the weapon with the nation. Keep up the good work bruv.ISAFollower (talk) 10:35, January 28, 2018 (UTC)
Award
| | |
| --- | --- |
| | Lamicrosz! By order of the emperor and supreme commander Archduke Friedrich, I address to you my felicitations and congratulations on your exemplary conduct on the articles concerning Incursion and in general helping the wikia. Continue your work. |

Slopijoe/Osaka_amd

Defender of the Balkans

23:30, February 24, 2018 (UTC)
RL info
Hi, I'm not sure where I'd ask this as I don't edit here very often, but I am not sure to what degree real-life information is permitted on certain pages. Specifically, I was wondering whether it would be okay to add trivia notes on the codex entry pages to correct some of the information, as there are a few facts that they get wrong. --Template:Signatures/(AugFC) 17:03, July 3, 2018 (UTC)
Community content is available under
CC-BY-SA
unless otherwise noted.