Welcome!
[
]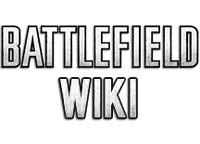 Welcome to the Battlefield Wiki, Mydemons13! Thank you for your recent edits
New to the community? Your first stop should be the Community Portal, where you'll find helpful links about editing and the community - including our rules and our features.
Questions? Feel free to ask on my talk page; I'm always happy to help.
If you need anything more, talk to an administrator or one of our trusted users
(identifiable by coloured usernames - orange/gold and teal respectively)
I hope you enjoy editing on the wiki, see you around!
- FluoxetinePatch (talk) 18:00, October 24, 2019 (UTC)
Editing Guidance
[
]
Hello there,
Welcome to the Battlefield Wiki and thanks for your contributions, however some have had to be reverted as they were either in violation of wiki policy or not fit for purpose. While there is no hard and fast rule for what constitutes notable Trivia, real-life information is not allowed outside of the introductory section (See BF:IRL for our policy on this matter).
When contributing trivia in future, try to focus more on what is actually in game, rather than what a vehicle is called or how it functions in real life, or repeating information from the article introduction. Also, the Trivia section is always at the bottom of the page, after the infobox (if it has one). Battlefield Wiki:Manual of Style has more guidance in this regard.
Let me know via my talk page if you have any questions, and feel free to contact any other admin at any time if you'd like help.
Regards,
--FluoxetinePatch (talk) 14:51, October 30, 2019 (UTC)
Re:Jungle Map
[
]
It was deleted due to us knowing nothing about the map aside from that short teaser as well as the speculation of its location. We need more concrete details before we make a page for it. An actual name for instance would help. --awyman13
(Talk/Work) 18:41, December 6, 2019 (UTC)
We dont include leaked or rumored information here. It can mislead readers and also invites EA to file a complaint against us (which they have before). --awyman13 (Talk/

Work

) 15:42, December 9, 2019 (UTC)
Temporyal is a data miner and as such the info he releases was not meant to be seen and is subject to change. Thats why we dont add any info he has recealed until we receive official. --awyman13 (Talk/

Work

) 15:45, January 6, 2020 (UTC)