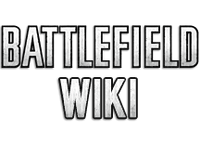 Welcome to the Battlefield Wiki, NineTails03! Thank you for your recent edits
New to the community? Your first stop should be the Community Portal, where you'll find helpful links about editing and the community - including our rules and our features.
Questions? Feel free to ask on my talk page; I'm always happy to help.
If you need anything more, talk to an administrator or one of our trusted users
(identifiable by coloured usernames - orange/gold and teal respectively)
I hope you enjoy editing on the wiki, see you around!
- Awyman13 (talk) 14:14, October 19, 2015 (UTC)
Trivia edits
Edit
Hello! While your recent edits are appreciated, I've had to undo a lot of them because you have not been citing any of the trivia that you've been adding, so most of it just looks like conjecture or speculation, which we generally don't have in trivia sections. Please leave a link to whatever your source is inside of <ref>/<ref> tags at the end of your edits from now on so they can be cited. Thanks, and let me know if you need anything else. -

Apprentice125(Talk)22:56, October 22, 2015 (UTC)
Sure thing, anything you particularly want like an infobox or the userboxes? Also, remember to sign your posts with ~~~~ so it links back to your profile. You can edit it in your preferences to show Shogun as your name if you'd like. -

Apprentice125

(

Talk

)23:43, October 22, 2015 (UTC)
Community content is available under
CC-BY-SA
unless otherwise noted.