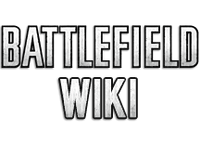 Welcome to the Battlefield Wiki, Woolva! Thank you for your edit to File:P011.png
You may want to introduce yourself at Forum:New Users
New to the community? Your first stop should be the Community Portal, where you'll find helpful links about editing and the community - including our rules and our features
Questions? Feel free to ask on my talk page; I'm always happy to help.
If you need anything more, talk to an administrator or one of our trusted users
(identifiable by coloured usernames - gold/purple and teal respectively)
I hope you enjoy editing on the wiki, see you around!
- -- Heatedpete (Talk) 14:37, 26 November 2011
Nice Job
Edit
Dude, where did you get those hi quality rank pics appreciate it and if you dont mind can you help out on this page?
http://battlefield.wikia.com/wiki/Ranks_of_Battlefield_3
Zephalian (Talk)

[[File:Newcomer's_Ribbon.png| 09:42, November 27, 2011 (UTC)
Wow, neat stuff you have lots of potential you done something that i cant do (making tables and ha for a trusted user) Zephalian (Talk)

[[File:Newcomer's_Ribbon.png| 10:50, November 27, 2011 (UTC) sign with four tildas
Yeah, though im not sure how is that implemented but leave in a page Sandbox/Woolva or somethign and by the way sign your posts with four of ~ so i can get to your page easily Zephalian (Talk)

[[File:Newcomer's_Ribbon.png| 11:33, November 27, 2011 (UTC)
Ahhh your the Empires and Allies kinda guy eh? i played it, enjoyed until... like most other games untill I ran out of energy!!! Zephalian (Talk) 09:20, November 28, 2011 (UTC)
Go ahead and move the articles. I'll delete the other one or make it a redirect. Not sure which one yet...
Woah! Now that tab thing's something I've never seen before in my several years of editing. I may look more into that for trolling user page stuff... (hehe)
Read this article in its entirety. It will show the progression of the versions of the Commander Mode DICE went through, with the final stage being the one we have now (then the GIF stops). The submarine is only present in the very first one, and then removed thereafter. Not to mention that the AGSS-569 has been retired for 40 years now, it seems highly unlikely that it would be put back into service by 2020. The US doesn't use vehicles that are put out of service. Having said that, it was probably just being tested. Also, here is a tweet from the official Battlefield Twitter declining that submarines make an appearance in BF4, as well as stating that naval combat takes place above water.

PLR SoldierTalk

17:42, September 1, 2013 (UTC)
Community content is available under
CC-BY-SA
unless otherwise noted.