Incoming!
The subject of this article is a recent or unreleased addition to a Battlefield game. It may contain speculation or errors.
Have new, relevant information to add? Why not help out?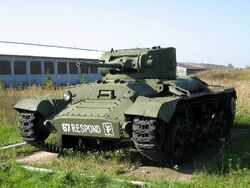 The Tank, Infantry, Mk III, Valentine was an infantry tank produced in the United Kingdom during the Second World War. More than 8,000 of the type were produced in eleven marks, plus various specialised variants, accounting for approximately a quarter of wartime British tank production.
Battlefield V
Edit
The Valentine Mk VIII is a tank featured in Battlefield V, first seen in the Battlefield 5 Official Reveal Trailer towing a Flak 38. The Valentine is the standard medium tank of the British faction. The vehicle has two seats: one for the driver who has access to a QF 2PDR gun and coaxial Besa machine gun, and a top gunner who can use an additional machine gun mounted on the roof of the turret.
The Valentine AA Mk I, is a fictional variant of the Valentine tank.