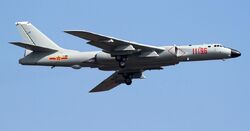 The Xian H-6 (Chinese: 轰-6; pinyin: Hōng-6) is a license-built version of the Soviet Tupolev Tu-16 twin-engine jet bomber, built for the People's Liberation Army Air Force.
Delivery of the Tu-16 to China began in 1958, and the Xi'an Aircraft Industrial Corporation (XAC) signed a license production agreement with the USSR to build the type in the late 1950s. The first Chinese Tu-16, or "H-6" as it was designated in Chinese service, flew in 1959. The latest version is the cruise missile-carrying H-6K.
Battlefield 4
Edit
Main article: Bomber
The Xian H-6 is a vehicle featured in the Battlefield 4: China Rising and Battlefield 4: Final Stand expansions as the Bomber for the People's Liberation Army and the Russian Ground Forces. To utilize the vehicle, players must use an Air Raid Bunker which is located at specific control must that must be held in order to use.[1]
The Xian H-6 has access to JDAM Bombs, which will head for a designated point set by the player, as well as guidable Cruise Missiles if the player has completed the Mother of all Bombs assignment, which cause much more damage in exchange for a smaller supply of them.
The B-1B Lancer is the USMC counterpart of the Xian H-6, serving as that faction's bomber.
References
Edit
Community content is available under
CC-BY-SA
unless otherwise noted.