Not to be confused with Battlefield 1942, the first game in the series.
Battlefield 1
开发商
出版商
音乐
引擎
发行平台

October 18, 2016 (Pre-Order)
October 21, 2016

游戏种类

First Person Shooter

评级

ESRB: M
PEGI: 16
ACB: MA15+

平台
"经历全面战争的黎明(Experience the Dawn of All-Out War)"
— 宣传词
战地风云1(英文:Battlefield 1)是由
DICE
制作、
EA
发行的一款第一人称射击游戏,是
战地系列
中第十五部作品。该游戏设置于
第一次世界大战
期间,它第一次独占于第八代游戏机,并于2016年10月21日在全世界发布。
成就与奖杯
概述
While many elements from past installments return, Battlefield 1 presents vehicles in a much more prominent role than commonly seen in WWI settings, featuring first-generation tanks, bi- and triplanes, and airships. Unarmored cavalry—soldiers on horseback—will also make a first appearance. Due to the prevalence of trench warfare during World War I, melee combat features an increased focus from past installments. Chemical weapons like Mustard Gas, which were used extensively during World War I, are also present and can be combated via a vision-obscuring Gas Mask.
Battlefield 1/Singleplayer Battlefield 1/Multiplayer
可下载内容
They Shall Not Pass
On August 24, 2016, DICE announced Battlefield 1: They Shall Not Pass alongside Battlefield Premium. The pack introduces the French Army as a playable faction in addition to four new maps set in Verdun and the Aisne-Marne Offensive, new weapons, vehicles, and Codex Entries. It is scheduled to release in March 2017.
In The Name of the Tsar
On August 24, 2016, DICE announced a second unnamed expansion for Battlefield 1 that would include the Russian Army as a playable faction. Battlefield 1: In The Name Of The Tsar was formally announced on February 28, 2017. It will take place on the Russian frontlines across four maps. It is set to be released in Spring 2017.[1]
Turning Tides
On February 28, 2017, DICE announced the Battlefield 1: Turning Tides expansion as well as two other expansion packs. It will center on naval warfare of World War I in battles such as the Zeebrugge Raid and Gallipoli Offensive across four new maps. It is set to release in Summer 2017.[2]
Apocalypse
On February 28, 2017, DICE announced the Battlefield 1: Apocalypse expansion as well as two other expansion packs. It will center on infamous battles of the Great War with the addition of four new maps. It is set to release in Winter 2017.[3]
Battlefield Premium
Battlefield Premium is available in a similar vein to previous games, granting two-week early access to all four paid expansions at no extra cost, in addition to 14 Battlepacks issued monthly. Pre-order of the Battlefield 1: Premium Pass was put up for sale on Origin on August 24th, 2016.[4]
原声大碟
The Battlefield 1: Original Soundtrack was released on October 28, 2016. It was composed by Johan Soderqvist and Patrik Andren and consists of 25 tracks.
发展
According to lead designer Daniel Berlin, the idea of a Battlefield game set within WWI was one that DICE had toyed with for a long time.[5]
The game was originally going to have a more standard campaign format. The campaign was revised into a series of short stories connected by the "theme" of WWI, namely its scale, to show how many people it affected. The idea of making the campaign an adventure game was explored during development.[6]
The game was confirmed on October 28, 2014 by EA CEO Andrew Wilson, following claims from analysts that a new Battlefield game would release in 2016 due to the release of Battlefield Hardline in early 2015 as well as the release of the new Star Wars: Battlefront in late 2015. The game was confirmed by EA CFO Blake Jorgensen during the 2014 UBS Global Technology Conference to be military focused. He said he has already seen the game and it is shaping up to be a "fun, new Battlefield".[7]
The title's 2016 release was reaffirmed during an EA investor call in July 2015, as the company plans for the game to be their core shooter title for 2016.[8]
Following the release of Star Wars Battlefront, DICE announced in December 2015 that the core team had moved on to the development of the next Battlefield.[9]
The official reveal for the game took place on May 6, 2016.[10] In preparation for the game's May 6 reveal, DICE and Visceral began a promotion called Road To Battlefield, offering free expansions to players of Battlefield 4 and Battlefield Hardline, the two previous titles in the franchise.[11]
In North America, the PC version will only be available through digital download.[12]
Beta
On August 15th, 2016 the Open Beta was announced on to start on August 31st, 2016 and ran until September 8, 2016[13] Players who signed up for the Battlefield Insider program before August 21st, 2016 gained access to the Open Beta one day early on August 30th, 2016. The beta featured two gamemodes, Rush and Conquest, on the map Sinai Desert. To celebrate the approaching end of the Open Beta, DICE released an update on September 6, 2016, DICE to remove match timers so rounds could be played indefinitely and unlocked all available weapons within the beta.
Gallery
销售
标准版
特别版
早期征兵豪华版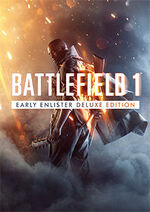 战地风云1
提前三天玩到游戏,即在10月18日玩家就可进入游戏
5个战斗包
独家典藏版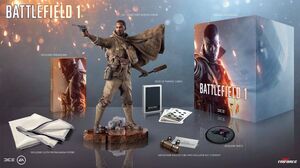 战地风云1
14寸的士兵手办
铁盒包装
布制的宣传海报
游戏主题胸章
法国扑克牌
装着豪华版中所有DLC码的信鸽信筒
提前三天玩到游戏,即在10月18日玩家就可进入游戏
独有车辆外观
前线/补给包版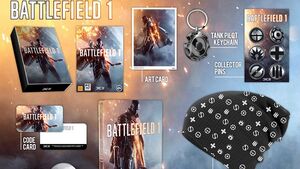 Sold with and without Battlefield 1
Steelbook Case
Action Art Card
Tank/Pilot Keychain
Class Emblem Pins
Real Life Dog Tag
Beanie
Code Card for 60 days exclusive "ThinkGeek" Dog Tag
Reception
Battlefield 1 has received positive reviews from critics.
The Metacritic scores for the game are as follows:
On OpenCritic, the game holds a score of 86/100 based on 65 reviews across all versions of the game.[17]
Miguel Concepcion from GameSpot gave the game a score of 9/10, praising the game's "memorable" campaign, historic setting, the Operations game mode, and the "visually pleasing" and "engrossing" maps. However, his one point of criticism was the game's "unintuitive" user interface for its multiplayer portion.[18]
Chloi Rad from IGN gave the game a score of 9/10, praising the game's use of its WW1 setting, destructible environments, balance in classes and gadgets, and variety in weaponry. Her criticisms of the game include the map design, which she describes as being "nothing special", and certain parts of the campaign and its length.[19]
Matt Bertz from Game Informer a score of 9.25/10, giving praise to the game's campaign, destructible environments, dynamic weather feature, and immersion factor through its graphics and sound design. However, he criticizes the game for having "quality-of-life" issues such as not being able to customize loadouts in the main menu, and some of the game modes (such as Team Deathmatch and Domination) for making the game play more like any other shooter.[20]
As of July 2017, the game has had over 21 million players.[21]
Gallery
Concept Art
影像
参考