战地风云4
开发商
出版商
引擎
发行平台

PC/X360/PS3:
北美 2013年10月29日
欧洲/澳洲 2013年10月31日
PlayStation 4:
北美 2013年11月12日
欧洲/澳洲 2013年11月29日
Xbox One:
北美 2013年11月19日
欧洲/澳洲 2013年11月22日

游戏种类
评级

ESRB: M
PEGI: 16
ACB: MA15+

平台
"殊4战斗"
— 战地风云4 宣传语
战地风云4 (又称战地4) 是 战地风云系列 第十二部作品, 由DICE开发, 艺电发行. 它是战地风云3 的续作, 登陆个人电脑与本时代及次世代游戏主机.
成就与奖杯
主条目: 战地风云4成就与奖杯
简介
许多元素从战地风云3及其他前作回归, 如相同的四类兵种, 一个类似的平视显示器, 击杀回放, 以及增加的破坏. 玩家现在可以使用双瞄具武器, 武器包括不同射击模式(如单发射击, 自动连发). 玩家也有了更多的生存能力, 如在站立或蹲伏时反击正面的近战攻击, 游泳时用他们的手枪射击与潜入水下避免被敌人发现.
可下载内容
中国崛起
2013年5月21日, DICE发布 战地风云4: 中国崛起 的Battlelog文章,称新DLC包括四张位于中国大陆的新地图, 十个新的小任务, 新载具, 及 空域优势 模式.曾预购游戏的玩家无需额外付费即可取得. 2013年12月3日高级会员先行上线, 12月17日非高级会员才得以游玩新DLC.
再次进击
2013年6月10日, DICE unveiled Battlefield 4: Second Assault during the Microsoft Press Conference at E3 2013. The expansion features the return of four fan favorite maps from Battlefield 3 and introduces Capture the Flag as a new gamemode. It released on November 22, 2013 on Xbox One as an timed exclusive to Premium owners on the platform. Premium members for other platfos gained access to the expansion on February 18, 2014 while non-premium members obtained access on March 4, 2014.
海军风暴
2013年8月20日, DICE unveiled Battlefield 4: Naval Strike at Gamescom 2013. The expansion focuses heavily on naval combat, introducing Carrier Assault, a reimagined version of the Titan gamemode. The expansion features four naval centered maps as well as new weapons and vehicles. It released for Premium members on March 25, 2014 and due to technical difficulties, released for Xbox One Premium members on March 27, 2014 and PC Premium members on March 31, 2014. Non-Premium members obtained access on April 15, 2014.
龙之獠牙
2013年8月20日, DICE unveiled Battlefield 4: Dragon's Teeth at Gamescom 2013. Taking place in the urban environments of war-torn cities all across Asia locked down by the People's Liberation Army, it features four new maps as well as new weapons and gadgets. It became available to Premium members on July 15, 2014 and was released for Non-Premium members on July 29, 2014.
最终反击
2013年8月20日, DICE unveiled 战地风云4: 最终反击 at Gamescom 2013. The expansion is a throwback to 战地风云2142, taking place toward the end of the War of 2020 and setting the stages for the eventual war of the future. The expansion includes four maps as well as futuristic weapons and vehicles. It was released on November 18, 2014 for Premium members and December 2, 2014 for Non-Premium members.
战地高级会员
战地风云高级会员 returns, functioning similar to its Battlefield 3 counterpart. It grants owners access to all expansions at no extra cost as well as exclusive content and events. It became available at launch, with a Premium edition later released on October 21, 2014.
小说
战地风云4: 战争倒计时 是Peter Grimsdale所著的一本小说,故事发生在游戏单人战役之前. 小说围绕着代理人科维特为中心, 道出了墓碑小队的背景故事. 2013年10月24日发布.
原声
2013年3月24日, 一首由Johan Skugge和Jukka Rintamaki创作, 题为 "汉娜" 的主题曲被泄露. 两位作曲家都曾参与过战地风云3原声音乐.
开发
艺电总裁弗兰克·吉伯在加利福尼亚大学证实该公司有意发布一部战地3续作, 他说 "会有战地风云4的". 2011年10月25日, DICE 对Eurogamer表示希望他们能获得制作战地4的机会. 战地4将使用新的寒霜3引擎. 新引擎拥有高分辨率的贴图与粒子效果使得游戏环境更加真实. 同时引进了一个名为"networked water"的新系统, allowing all players in the game to see the same wave at the same time. Tessellation has also been overhauled.
An Alpha Trial commenced on June 17, 2013 with invitations randomly emailed to Battlefield 3 players the day prior. The trial ran for two weeks and featured the Siege of Shanghai map with all of its textures removed, essentially making it a "whitebox" test.[2] Due to mixed reception of the two-player Co-op Mode in Battlefield 3, DICE decided not to include the mode in Battlefield 4 so as to focus on improving both the campaign and multiplayer components instead. AMD and DICE have partnered for AMD's Mantle API to be used on Battlefield 4. This will allow for a boost in performance on AMD graphic cards allowing a higher level of hardware-optimized performances than is possible with OpenGL or DirectX.
EA曾考虑开发Wii U版本, 但由于后者销量惨淡,逐打消了这一想法.
DICE announced at E3 2013 that, as before, current-generation copies of the game have a limit of 24 players due to hardware restrictions while PCs and next-generation consoles support up to 64 players. It was also announced that the game would run at 60 FPS on next-gen consoles and that squads would now have a maximum number of five players per squad.[3] Multiplayer progress is transferable between current-gen and next-gen consoles. A port of the game for iOS is currently in development though it is unknown whether or not it will be released.[4]
测试
测试版于2013年10月1日在PC, Xbox 360, and PlayStation 3上推出,仅供那些预购 荣誉勋章: 战士, 战地风云数字豪华版, 或是战地风云3高级版的用户. 2013年10月4日公开测试.
PC玩家可于2013年9月29日前下载测试版, 但该平台需要有64位硬件来运行. 测试版精选上海之围和征服还有抢攻与歼灭在2013年10月9日以后加入. 测试结束于2013年10月15日.
试玩
游戏演示于2014年5月26日在PlayStation 3上发布, 可供玩家进行最多二十小时的多人模式游戏.
问题
上线之初, 战地风云4 充斥着大量BUG, 故障和崩溃. EA与DICE很快发布了几个全平台的修复补丁, 随后DICE表示将停止其所有制作中游戏的开发进程 (包括镜之边缘, 星际大战:战场前线及战地4扩展包) ,直至战地4的BUG被完全修正. Because of the widespread bugs and glitches that were present, EA became the target of multiple law firms. The firm Holzer Holzer & Fistel, LLC launched an investigation into EA's public statements made between July 24 and December 4, 2013 to determine if the company intentionally misled its investors with information pertaining to, "the development and sales of the Company's Battlefield 4 video game and the game's impact on EA's revenue and projects moving forward."
Shortly thereafter, the law firm Robbins Geller Rudman and Dowd similarly filed a class action lawsuit against EA for releasing false or misleading statements about the quality of Battlefield 4. A second class action lawsuit was announced only days later from the firm Bower Piven, which alleged that EA violated the Securities Exchange Act of 1934 by not properly informing its investors about the major bugs and glitches during development that may have prevented the investors from making an informed decision about Battlefield 4.
销售

Battlefield 4 was announced in July 2012 when EA advertised on their Origin client that those who pre-ordered Medal of Honor: Warfighter (either Digital Deluxe or the limited edition) would receive early access to the Battlefield 4 beta.
In March 2013, Electronic Arts opened the Battlefield 4 website with three official teasers, entitled "Prepare 4 Battle". Each hints at three kinds of battlespace: air, land and sea. EA then continued to release teaser trailers leading up to the unveiling of Battlefield 4 at the Game Developers Conference on March 26, 2013.
The following day, Battlefield 4's first gameplay trailer, which doubled as a showcase for the Frostbite 3 engine was released. Shortly thereafter, EA listed the game for pre-order on Origin for Microsoft Windows, PlayStation 3, and Xbox 360; however, EA excluded any mention of the next generation consoles.
DICE revealed more Battlefield 4 content in the E3 2013 event at June 10, 2013, such as multiplayer modes, and allowed participants to play the game at the same event. More information was released at Gamescom 2013 in Cologne, Germany, such as Paracel Storm and Battlefield 4 Premium.
DICE also announced that those who purchase the game for PlayStation 3 or Xbox 360 will be able to trade it in for a PlayStation 4 or Xbox One version of the game for as little as $10 for a limited amount of time. Additionally all PlayStation 3 and 4 copies will include a code in the box to redeem a digital copy on the PlayStation Store.
特别版
豪华和数字豪华版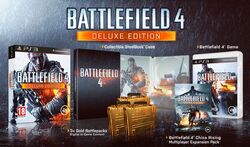 战地风云4
中国崛起 扩充包
一个铁盒套子 (仅豪华版)
三个黄金战斗包
高级版
限量版
战地风云4
中国崛起 扩充包
2GB的狗牌USB硬盘
A1尺寸大小的海报
Gamestop预购版
战地风云4
中国崛起 扩充包
设计独特的真实狗牌
铁盒套子 (包括高级版与预购版)
假日版
Reception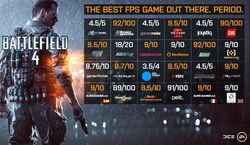 战地风云4 收到的大多是正面评价.
GameSpot给了8/10分, 称赞新的歼灭模式和多人游戏元素但对战役不感冒.
IGN给了本世代游戏主机版本8/10分, 指出 "战地风云4是DICE经典多人游戏的集大成之作". PC版由于比游戏主机更好的图形性能获得8.5/10分.
Joystiq给了4.5/5分, 说游戏 "drops players into a sandbox and unhooks all tethers, loosing scores of soldiers to squad up and take down the opposition however they choose". 这一战役元素受到了赞扬, 但多人游戏中并没有发现任何惊喜.
Machinima给了9.5/10分, 称赞新的关卡进化特性和多人模式.
琐事
标题画面的图片展示了上海这座城市和中国的J-20战斗机.
2013年3月18日, 一段七秒的预告发布; 描绘98式坦克履带开始移动, 以及一个日期(2013年3月27日), which was then confirmed on the website to be when another part of Battlefield 4 was revealed. 然而, 这只适用于已登录的Origin用户.
2013年3月21日, 一个15秒的预告发布, 描绘了某种船舶轮机. 此外, 一张燃烧的航母的图片显示在 战地风云4 官方网站.
战地风云4 是为次世代游戏主机开发的 (Xbox One和PlayStation 4), 但被缩水以兼容本世代游戏主机 (Xbox 360和PlayStation 3).
The key art was leaked in a supposed 战地风云4 trailer before it was officially released.
画廊
战地风云4预告截图
战地风云4官方截图
视频
引用